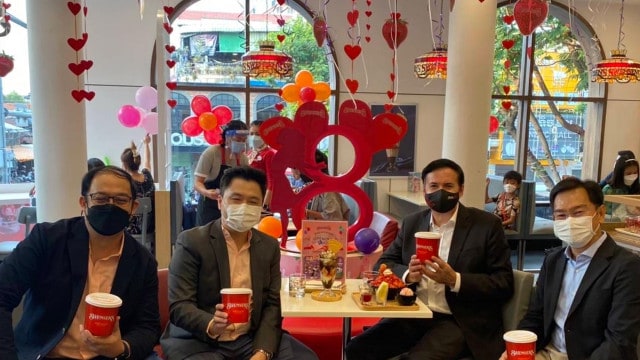 Phnom Penh, March 8th, 2022 – Minor Food International (MINT) and EFG (Express Food Group) signed a ten-year agreement today to open multiple new Swensen's Ice Cream Parlors in Cambodia and Laos. This collaboration includes the first ever integrated pizza restaurant with ice cream parlor – located in the popular Kampuchea Krom district of Phnom Penh – which was officially opened this afternoon. Cambodia's #1 pizza brand The Pizza Company occupies the ground and first floor of the Kampuchea Krom flagship store location, and the Swensen's is then cleverly designed to integrate into the pizza restaurant. With its modern contemporary design and beloved ice cream flavors, suitable for sharing or indulging alone or with loved ones, the new Kampuchea Krom Swensen's includes many new products and flavours. This is the first integrated format Swensen's unveiled anywhere in the world and EFG intends to open similar concepts this year in Chbar Ampov and Battambang.
In addition to the integrated pizza restaurant with ice cream parlor format, EFG will be bringing to Cambodia other Swensen's formats including a new premium ice cream concept for Aeon Mean Chey Mall and a new modern cafe with pink and pastel colours to be unveiled soon. EFG expects to more than double the number of Swensen's Cambodia stores over the next few years plus has made a commitment to upgrade and refurbish her existing Swensen's stores to ensure the very latest look and feel for this much-loved ice cream brand.
Swensen's first arrived at Minor Food in 1986. The beloved ice cream parlor, established in San Francisco, soon developed into Asia's largest premium ice cream brand. Under Minor's Food direction, the Swensen's brand has evolved from single scoops to a variety of sundaes and today it provides consumers all over Asia with an experience no other brand can provide. EFG Group operates more than 10 Swensen's restaurants in Cambodia, Laos, and Myanmar.
Anupon Nitiyanant, General Manager Swensen's Thailand described EFG as a 'significant partner and respected operator of The Pizza Company and Swensen's brands in Cambodia, Laos and Myanmar' and expressed how happy Minor Food International is to sign this new ten-year agreement covering expansion and growth of the Swensen's brand in Cambodia and Laos. With the signing of this agreement, and earlier long-term agreements covering The Pizza Company, Minor Food International has ensured future investment growth plans for both key brands for the next ten years.
Martin Darby, Managing Director of EFG Group "welcomed" the signing of this new ten-year master franchise agreement which grants EFG exclusive territory rights for developing Swensen's stores in Cambodia and Laos.
The Swensen's Kampuchea Krom is located on Kampuchea Krom Boulevard (128) and opens daily from 9am to 10pm. Swensen's ice cream products are available for dine-in, takeaway or delivery via EFG's dedicated delivery and pick up App – Hungry? (get.hungryapp.asia).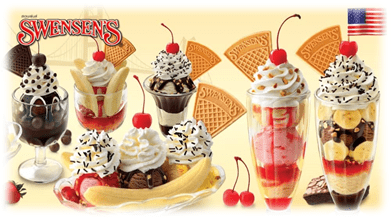 About EFG (Express Food Group)
Headquartered in Bangkok, Thailand, EFG Group employs over 1,300 people and has an operational presence in 3 countries – Cambodia, Myanmar and Laos. EFG is the partner of choice for leading food & beverage brands in Southeast Asia including Minor Food International & Food Passion Group – and for North American brands – International Dairy Queen, Krispy Kreme and Texas (Church's) Chicken where EFG is the franchisee for Laos. In 2020/21 EFG launched her own brands Hungry?  (get.hungryapp.asia) an ecommerce delivery business and Eat Together 一起吃 a Chinese virtual brand serviced by a ghost kitchen.
In 2021, EFG Cambodia was awarded Best Company to Work for in Asia by HR Asia.