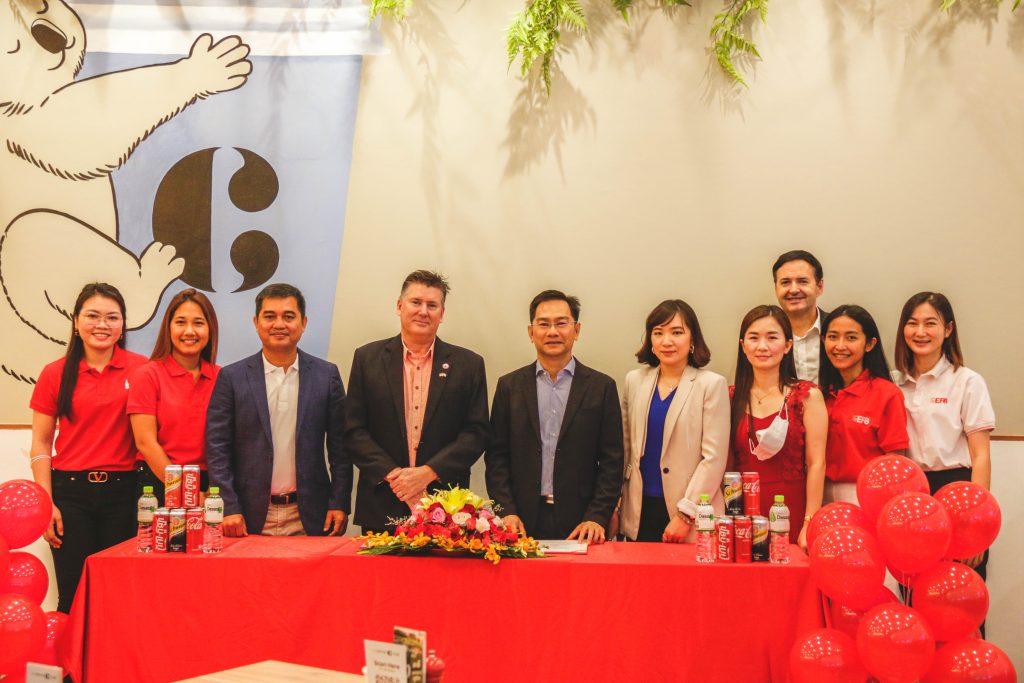 Phnom Penh, April 27th, 2022 – EFG (Express Food Group), Cambodia's leading F&B operator, and Cambodia Beverage Company Limited known as "Coca-Cola Cambodia", Cambodia's leading beverage business signed a three year agreement today. This new agreement will see all EFG's hundred plus food & beverage restaurants and kiosks move to bottled and canned soft drinks exclusively from The Coca-Cola Company. The agreement also includes collaboration on marketing, training, and development, including educational employee factory visits and joint CSR activities. The agreement also covers EFG's fast expanding e-commerce pick-up and delivery business – Hungry? (get.hungryapp.asia).
EFG operates The Pizza Company, Cambodia's #1 pizza brand. This much-loved brand, created by Minor Food Group in 2000 specialises in innovative pizzas, with chunky, wholesome, richer toppings than most western style pizzas. The Pizza Company has defined what pizza means for Cambodian consumers and with over 50 restaurants, EFG is a significant franchisee of Minor Food Group. There are over ten new The Pizza Company restaurants planned to open in Cambodia in 2022 including locations in Kampong Speu and throughout Phnom Penh.
EFG Cambodia's other F&B brands include DQ®, Swensen's, BarBQ Plaza, Krispy Kreme, The Coffee Club, Eat Together (Chinese food) and Bay Phum (Khmer food).
David Wigglesworth, CEO of Cambodia Beverage Company Limited (a 100% subsidiary of The Coca-Cola Company) described the partnership with EFG as "significant", and that "we are looking forward to building upon our long and rewarding past partnership with EFG and their great brands, EFG's iconic Pizza and other brands go well with our leading beverage brands, especially Coca-Cola, and we see the partnership as a win-win and look forward to expanding it within the Kingdom".
Martin Darby, Managing Director of EFG Group "welcomed" the partnership. Explaining that with the signing today, EFG is committing to serve Coca-Cola beverages in all their current and future F&B retail and e-commerce businesses". "
About EFG (Express Food Group)
Headquartered in Bangkok, Thailand, EFG Group employs over 1,300 people and has an operational presence in 3 countries – Cambodia, Myanmar and Laos. EFG is the partner of choice for leading food & beverage brands in Southeast Asia including Minor Food International & Food Passion Group – and for North American brands – International Dairy Queen, Krispy Kreme and Texas (Church's) Chicken where EFG is the franchisee for Laos. In 2020/21 EFG launched her own brands Hungry? (get.hungryapp.asia) an ecommerce delivery business and Eat Together 一起吃 a
Chinese virtual brand serviced by a ghost kitchen. In April 2022 EFG launched a popular Khmer food virtual brand "Bay Phum".
In 2021, EFG Cambodia was awarded Best Company to Work for in Asia by HR Asia.