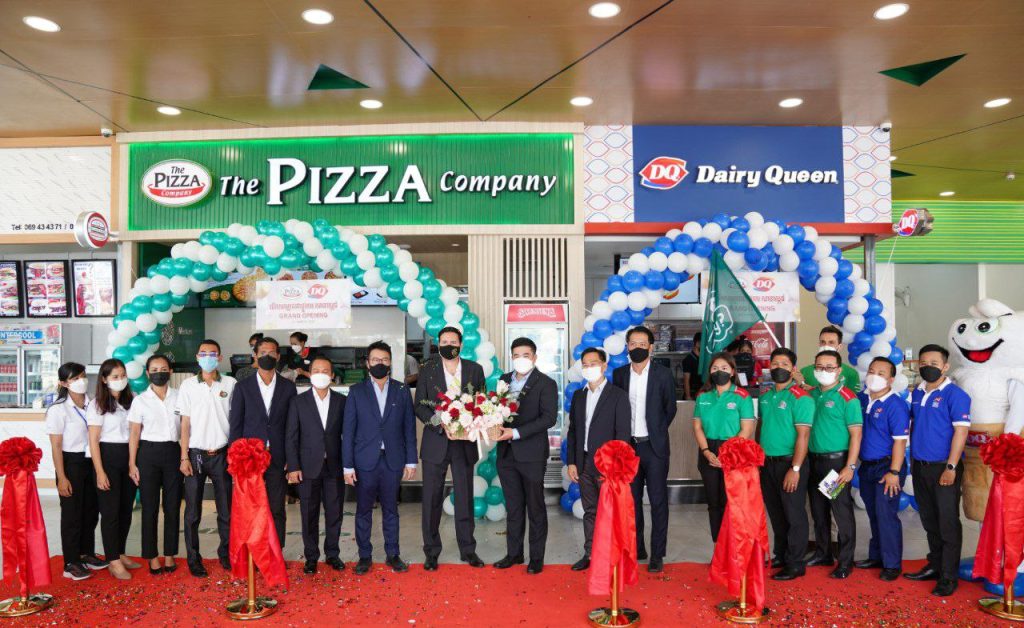 Skun, 15th March 2022 – EFG (Express Food Group) and PTTOR signed an agreement today to open multiple international F&B branded restaurants and kiosks in PTT Stations in Cambodia and Laos. This collaboration includes the first ever The Pizza Company Food Court operation and Dairy Queen (DQ) kiosk within the newly opened PTT Station in Skun.
The Pizza Company is Cambodia's #1 pizza brand. This much-loved brand was created by Minor Food Group in 2000 and specialises in innovative pizzas with chunky wholesome richer toppings than most western style pizzas. The Pizza Company has defined what pizza means for Asian consumers and with over 50 restaurants, EFG is a significant franchisee of Minor Food Group. This is the first The Pizza Company food court concept outside of an airport terminal.
The essence of the DQ® brand comes to life with every flipped Blizzard® Treat, dipped cone, Dilly® Bar and every other DQ® soft serve treat. There are few brands as iconic as DQ®. The first Dairy Queen location opened in USA in 1940. Since then, the innovative DQ food and treats along with the unique DQ restaurant concepts, have positioned International Dairy Queen as a leader in the quick-service restaurant industry both in the U.S. as well as internationally. EFG operates over 20 DQ's in Cambodia and Laos.
EFG and PTTOR have agreed multiple further store openings including DQ at PTT Station Chbar Ampov, Phnom Penh and DQ at PTT Station Phontong, Vientiane.
Nuttapong Kaewtrakulpong Managing Director of PTT (Cambodia) Limited subsidiary of PTTOR described the partnership as "significant" in bringing convenient, fast, fresh, fulfilling Grab & Go food and beverages for travelers and the local community serviced by PTT Station. Nuttapong explained "with this signing today, PTTOR now adds EFG's international brand portfolio to PTTOR's already successful partnerships with 7-Eleven, and many brands.
Martin Darby, Managing Director of EFG "welcomed" the partnership. PTTOR's customers will be able to download EFG's HungryApp (get.hungryapp.asia),
order their food from the car and the food will be available for collection on arrival at
the PTT Station. Martin commented that "EFG's brands, located within PTT Station will
be available for local customers to order for home and workplace delivery with
each PTT Station's location providing guaranteed 30-minute delivery via HungryApp's fleet of drivers".
Many more locations will be announced soon.
About EFG (Express Food Group)
Headquartered in Bangkok, Thailand, EFG Group employs over 1,300 people and has an operational presence in 3 countries – Cambodia, Myanmar and Laos. EFG is the partner of choice for leading food & beverage brands in Southeast Asia including Minor Food International & Food Passion Group – and for North American brands – International Dairy Queen, Krispy Kreme and Texas (Church's) Chicken where EFG is the franchisee for Laos. In 2020/21 EFG launched her own brands Hungry? (get.hungryapp.asia) an ecommerce delivery business and Eat Together 一起吃 a Chinese virtual brand serviced by a ghost kitchen.
In 2021, EFG Cambodia was awarded Best Company to Work for in Asia by HR Asia.