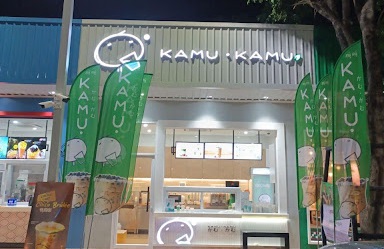 Sisophon, May 5th, 2023 – Kamu Tea, the renowned bubble tea brand, is excited to announce the grand opening of its second gas station location in partnership with PTT (Cambodia) Ltd. The new Kamu Tea store is located at PTT Sisophon Station, near Battambang, and marks another milestone in the successful collaboration between Kamu Tea and PTT.
Situated in a prime location along National road 5, the new Kamu Tea store will cater to the local community and travelers passing through Sisophon. The vibrant and inviting store design, coupled with comfortable seating, provides a welcoming environment for customers to indulge in Kamu Tea's wide range of signature bubble tea drinks and unique refreshments inspired by Ichigo and Milo.
The partnership between Kamu Tea and PTT has proven to be a winning combination, with the Skun Station store opening earlier this year receiving an overwhelming response from customers. Building on this success, Kamu Tea and PTT are dedicated to expanding their collaboration by opening more Kamu Tea stores at PTT branches throughout the kingdom.
"We are delighted to strengthen our partnership with PTT through the opening of our second gas station location in Sisophon," said Martin Darby, Managing Director of EFG. "This expansion showcases our shared commitment to offering exceptional products and experiences to our customers. We are excited to introduce Kamu Tea's delightful beverages to the community of Sisophon and create lasting memories with every sip."
PTT (Cambodia) Ltd., a leading fuel and retail company, is equally enthusiastic about the extended partnership and the prospects it brings for the future. By integrating Kamu Tea within their gas station locations, PTT aims to enhance the overall customer experience and provide a refreshing respite for travelers.
"We are pleased to continue our collaboration with Kamu Tea and open the second Kamu Tea store at PTT Sisophon Station," stated Mr. Nuttapong Kaewtrakulpong, Managing Director of PTT (Cambodia) Ltd. "This partnership allows us to offer our customers a unique and delicious beverage option while they fuel up or take a break during their journey. We look forward to further expanding our relationship with Kamu Tea and bringing their exceptional brand to more PTT locations."
The opening of the second Kamu Tea store at PTT Sisophon Station is a testament to the shared vision and commitment of Kamu Tea and PTT (Cambodia) Ltd. to provide outstanding products and memorable experiences to customers across Cambodia. With more stores on the horizon, this partnership is set to redefine the concept of convenience and enjoyment for all tea enthusiasts and travelers alike.
Click and follow Kamu Kamu social media channels below: