Bangkok, 25th November 2022 – EFG (Express Food Group), Cambodia's leading F&B operator, and KAMU KAMU, the leading and popular craft drink and tea brand from Thailand, signed an agreement today that will see EFG bringing the KAMU KAMU brand to the Kingdom of Cambodia and to Lao People's Democratic Republic with first stores expected to open early 2023.
KAMU KAMU was originally established in 2011 out of the founders' love for tea and passion to share "Everyday Inspiration". Adopting the original Japanese recipes, the brand strictly uses quality ingredients from top sources only. Well known for its wide array of craft drink and bubble tea selection, healthy fruit tea options and specialty drink like Raptor and Dino milo, KAMU KAMU has growth its fan base and outstanding reputation through offering many innovative new drinks and widely loved 'Kamu San'. The success is largely due to KAMU KAMU's focus on the freshness of the ingredients, good taste, and the joy it brings to enabling the brand to grow up more than 150 outlets throughout Thailand and expanding worldwide to be the leading Chewable Tea Place to share the world's taste of happiness.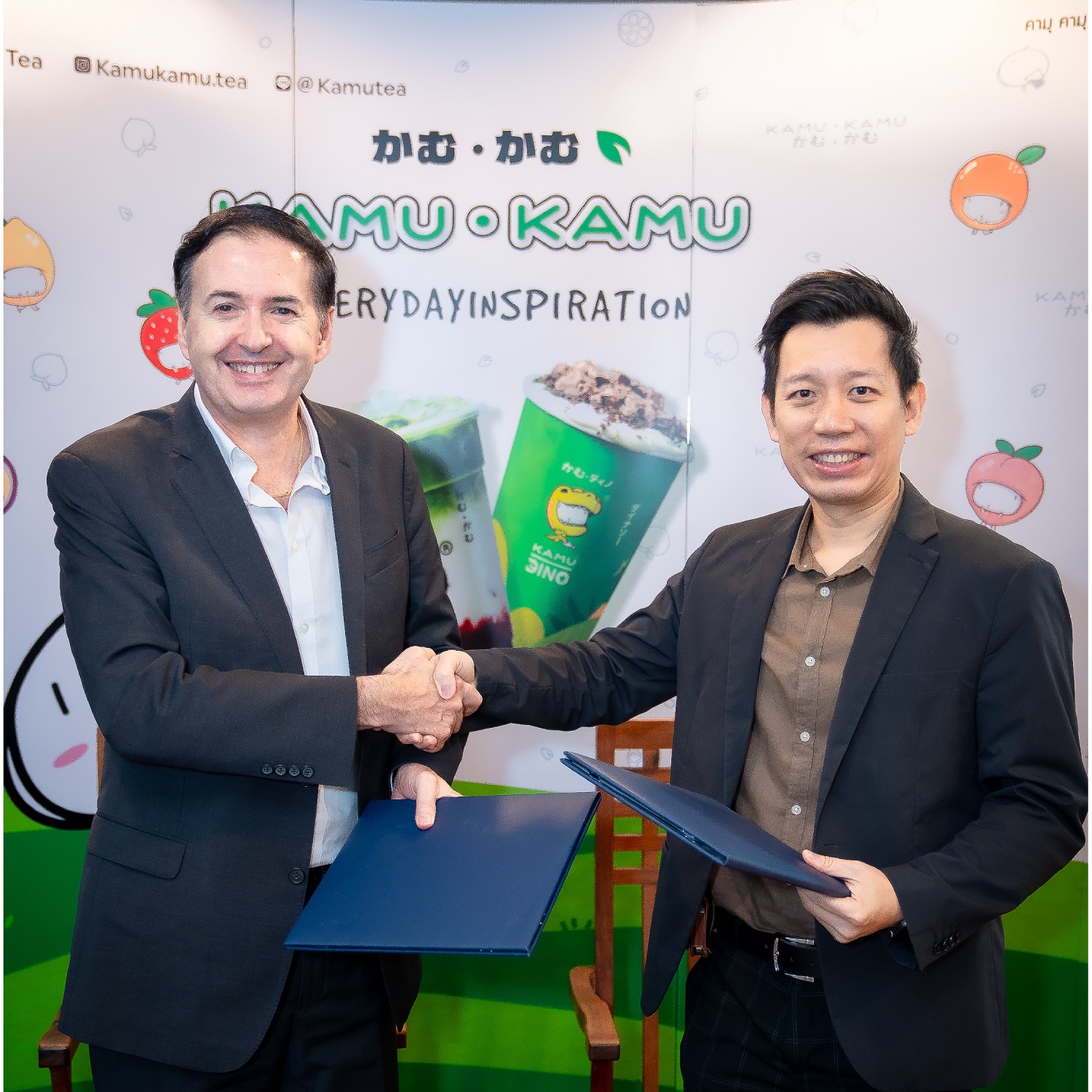 "Our brand is built upon our passion in delivering happiness and inspiration through our craft drinks. Each drink is intended to light up our customers' mood – one that everyone can enjoy daily, anytime, and anywhere. EFG has an impressive track record of expanding global brands in Southeast Asia market and we are confident that through this strategic partnership, we can continue to excite and offer our freshly made Chewable Tea to a growing customer base." Says Mr. Tinkrit Sintattasopon, Founder and CEO of Kamu Kamu.

EFG operates The Pizza Company, Cambodia's #1 pizza brand. This much-loved brand specializes in innovative pizzas, with chunky, wholesome, richer toppings than most western style pizzas. The Pizza Company has defined what pizza means for Cambodian consumers and with over 50 restaurants, EFG is a significant franchisee of Minor Food Group. EFG Cambodia's other F&B brands include DQ®, Swensen's, BarBQ Plaza, Krispy Kreme, The Coffee Club, Boost, Hungry (Delivery business), Eat Together (Chinese food), Bay Phum (Khmer food) and So Bento (Asian fusion). In Laos EFG also operates Texas Chicken brand. EFG has a track record for rolling out F&B brands via airports, gas stations, shopping malls and provincial cities operating in Poipet, Siem Reap, Battambang, Kampong Cham, Phnom Penh, Kampong Speu, Sihanoukville and in Laos Vientiane and Pakse.
"We are delighted to partner with KAMU Tea, a brand with a strong commitment to quality and innovative products, memorable service, and a truly unique cool Japanese cartoon inspired personality " said Martin Darby, Managing Director of EFG Group. "We have ambitious plans to open 50 locations, within 5 years, across Cambodia and Laos, with first locations expected to open early 2023".
Click and follow Kamu Kamu social media channels below:
About EFG (Express Food Group)
Headquartered in Bangkok, Thailand, EFG Group employs over 1,300 people and has an operational presence in 3 countries – Cambodia, Myanmar and Laos. EFG is the partner of choice for leading food & beverage brands in Southeast Asia including Minor Food International & Food Passion Group – and for North American brands – International Dairy Queen, Krispy Kreme and Texas (Church's) Chicken where EFG is the franchisee for Laos. In 2020/21 EFG launched her own brands Hungry? (get.hungryapp.asia) an ecommerce delivery business and Eat Together 一起吃 a Chinese virtual brand serviced by a ghost kitchen. In April 2022 EFG launched a popular Khmer food virtual brand "Bay Phum" and Asian fusion brand "So Bento". In 2021, EFG Cambodia was awarded Best Company to Work for in Asia by HR Asia.